¡Bravos!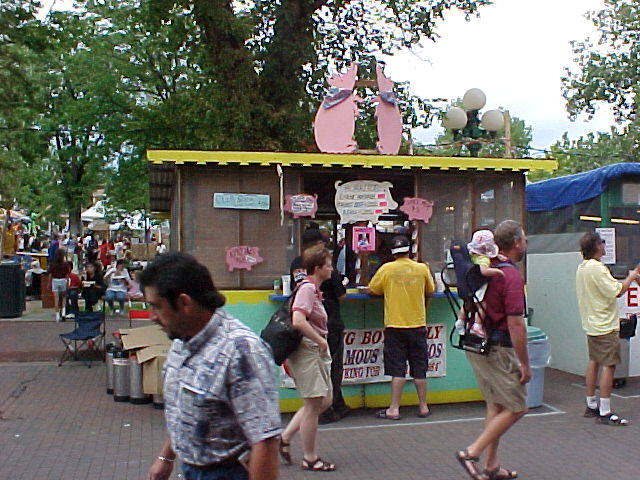 Pig Boy Willy Famous Burritos booth at Santa Fe Fiesta.
Here are some accolades from Pig Boy's customers and foodies!
Pig Boy Willy be trottin' our way,
Pig Boy Willy gonna make our day.
Come on, Pig Boy, we're waitin' for you –
If you ain't here soon, we'll sing the blues.
So speed your way through gale and sleet,
Cause Pig Boy honey we're ready for a treat.
Elbows on the table, hunkered in our places,
Napkins 'round our chins, grins on our faces –
Bring it, Willy, now is the hour –
D.C. casts its votes for PIG BOY POWER!
© 2013 Heddy Reid, Washington DC
February 2013
Chile Willy Stew over a spicy New Mexican treasure
"To outsiders, New Mexico's carne adovada seems like a nondescript stewed pork adobo.
"But for residents of the chile-crazed state, the secret to the signature dish is the sauce, which highlights the smoky, spicy chiles of the Southwest, and gets ladled over other dishes days after the pork is gone.
"Few outlets have mastered carne adovada quite as expertly as Pig Boy Willy. Owners Sue Farrington and Clancey Maloney developed a cult following for the enduringly spicy sauce that they served in burritos at the annual Fiesta on the [Santa Fe] Plaza.
"After 20 years, they relented to requests from the public and translated the recipe into a spice mixture that makes an honest copy of the original. It owes its mellow burn to locally sourced [Northern New Mexico] peppers (the [Pig Boy] Willy team worked with a [state] agriculture school and local growers to find the perfect type).
"The original Willy recipe features boneless pork shoulder cooked in a slow cooker, but the spices work just as well on beef or chicken.
"Try the stew in a baked potato or over eggs, or tuck into it like the locals: wrapped up in a warm flour tortilla."
Tasting Table
www.tastingtable.com
July 2010